September 25 - October 1, 2023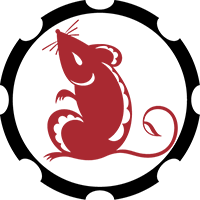 By its very nature, the Rooster is industrious and when it sets its mind to it, it gives you the work ethic to see things through and get things done. This is something that is on full display as you move into the most potent week of the competitive and professionally charged month of the Rooster. In the lead up to Friday's Full Moon the Moon is in its full waxing or growth phase, something that is adding fuel to your competitive spirit along with the Rooster's call to not put off anything until tomorrow that can be done today. Whether professionally or whatever you channel your competitive spirit into, this is a week for putting maximum effort in but also when there may be a need to pace yourself.
Year of the Rabbit
Jan 22, 2023 - Feb 9, 2024
For the Rat, the Year of the Tiger has been a year that has benefited almost every aspect of your life. The Rat is always thinking on its feet and always one step ahead of the game, but the Tiger gave you an additional edge, making you smarter and more articulate. While the month of the Tiger, which will run from 21st January to 20th February is the Swizz army knife of any lunar year, with a tool for every occasion, you have been under this influence since last February. While the Year of the Tiger will end on 21st January and the month of the Tiger on 20th February, you will continue to benefit from this smart and articulate influence.
This is something that you will take with you when you move into the Year of the Rabbit on 21st January, something that will shift the focus onto your home, family and/or property matters. The Year of the Rabbit will run from 21st January 2023 to 9th February 2024, making this a particularly long lunar year. So much so that there will be 13 lunar months instead of the normal 12, meaning that there will be a leap month this year. That leap month will fortuitously be the month of the Rabbit. The first month of the Rabbit will run from 20th February to 21st March, followed by a second from 21st March to 19th May.
In the early months of the Year of the Rabbit, this will be a chance to invest as much as possible into things close to home. The Rabbit doesn't just put the focus on home and family matters but brings an opportunity for growth, prosperity, happiness and peace of mind. This is not just an important year for home and family matters, but it is likely to be a good year in general, with a chance to feel more relaxed and settled. The Rabbit's influence will underpin the rest of the year, but with a lot of focus during these early months. Meanwhile, the most important months of this professional year will be the months of the Snake and Rooster. The month of the Snake will give work and job matters a boost from 19th May to 18th June and the month of the Rooster will give career and professional matters a boost from 15th September to 14th October.
About the Rat
Rats are always honest, and they are observant and curious. They are energetic, talkative and others can find them witty and charming. However ambition can make Rats ruthless and aggressive. They may find it hard to save, as they like to spend the money they earn and enjoy a good life.
The Rat is intelligent, charming, social and likeable. They are extremely good with money and are often thrifty. Although at times they can be economical to the extent of miserliness. Rats will spend lavishly under 3 circumstances: when they are in love, to further their long-term or career goals, and on collectibles if they are collectors. Rats are collectors by nature.
They are hard-working, innovative and full of ideas. Rats are almost always ambitious. Combined with the knowing of how to take advantage or make the best out of a situation, they are often successful at getting what they want out of life.
Rats are good at hiding their emotions, which often leads other to perceive their cool exteriors as those that are not easily roused. They sometimes have difficulties communicating their feelings. People born under this animal sign are frequently nocturnal.
Compatible: Dragons & Monkeys
Incompatible: Horses