November 28 - December 4, 2022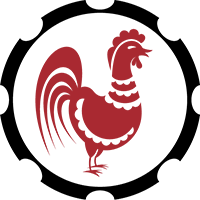 The first full week of the month of the Rat is putting the focus on things close to home, something that can help you feel more grounded, allowing you to get back to basics. The problem could be a busy and industrious Tiger Moon from Monday to Wednesday, something that is likely to get the week off to a busy start. At what is already a busy point in any year, this might expose any work/life balance issues, but then as you can't change what you're not aware of, this is the right reminder at the right time. This should be an easy fix and especially if you put both work and home on equal footing and work to find a mutually beneficial balance.
Year of the Tiger
Feb 1, 2022 - Jan 21, 2023
The Chinese New Year on 1st February will always bring one lunar year to a close and while this will end one influence and usher in a new one, not to the stark degree that it is likely to do this year. Every lunar year ends on the month of the Ox and begins on the month of the Tiger but once every 12 years this will also bring the Year of the Ox to a close while ushering in the Year of the Tiger. What we saw in January was a doubling impact, with the final four weeks of the fun, playful, romantic and creative Year of the Ox made even more extreme by also having the month of the Ox in effect. As if to squeeze out as much as you could from this playful influence, this doubling impact was important for things are set to take a busy turn from 1st February.
It is the New Moon on 1st February that will bring us to the Chinese New Year but also the start of both the month and the Year of the busy and industrious Tiger. While the month of the Tiger will end on 2nd March, the Year of the Tiger will run through to 23rd January 2023, making this a busy but also an exciting year for anything that you can channel this busy and industrious energy into. The Tiger likes to make things happen and get things done but there is a need to avoid becoming so busy that you end up chasing your own tail. This means pacing yourself for a busy year but one where you can accomplish a lot. This puts a lot of focus on your work situation and job matters but also on anything that keeps you busy.
The Tiger also loves change but also freedom, so a change of job might be on the cards this year, a change to the way you work or a desire for more freedom, autonomy or self sufficiency. A change of job that is like for like is less something that the Tiger will aspire to. It might not even be a change of job but just a change in how you work, with a chance to look at the number of hours that you work. This is also a chance to incorporate the Ox's legacy, making the most of the success that the Tiger can bring on the work front while ensuring life doesn't become all work and no play.
About the Rooster
A Rooster is brave, funny and witty. Entertaining and performing puts them in the center of attention, which is exactly where they enjoy being. They can be picky, vain and critical.
Roosters can be really eccentric and sometimes may seem selfish in their way of life. They are devoted to work and lifelong learning. Confident, motivated people, they may sometimes come across as pompous. While they can be brutally honest, they are also loyal and trustworthy.
Roosters are intelligent creatures that are reliable and self-efficient. They are good with money and sometimes manage other people's money better than their own. Punctual people with highly-disciplined minds, Roosters boast excellence at organizing people and things. They also love to be praised for it.
They are prone to changeable mood surges that leave them either extremely happy or very miserable. Similarly with their opinions and personal relationships, Roosters have no place for apathy in their lives. They either like or dislike intensely.
Compatible: Oxen & Snakes
Incompatible: Rabbits
Strained: Monkeys & Dogs